What Impact Does COVID-19 Have On The Game We Love?
No matter your preferred field of play - Legion Sports is here to help get you to the top of your game.
It just so happens, Legion Sports was born out of the love for America's pastime, baseball. Due to the COVID-19 pandemic, the 2020 Major League Baseball (MLB) opening day was postponed indefinitely. March 24th was a sad, sad day, especially here at Legion Sports. However, both the operations unit of MLB as well as the Players Association are now talking about the possibility of returning to the field as early as May.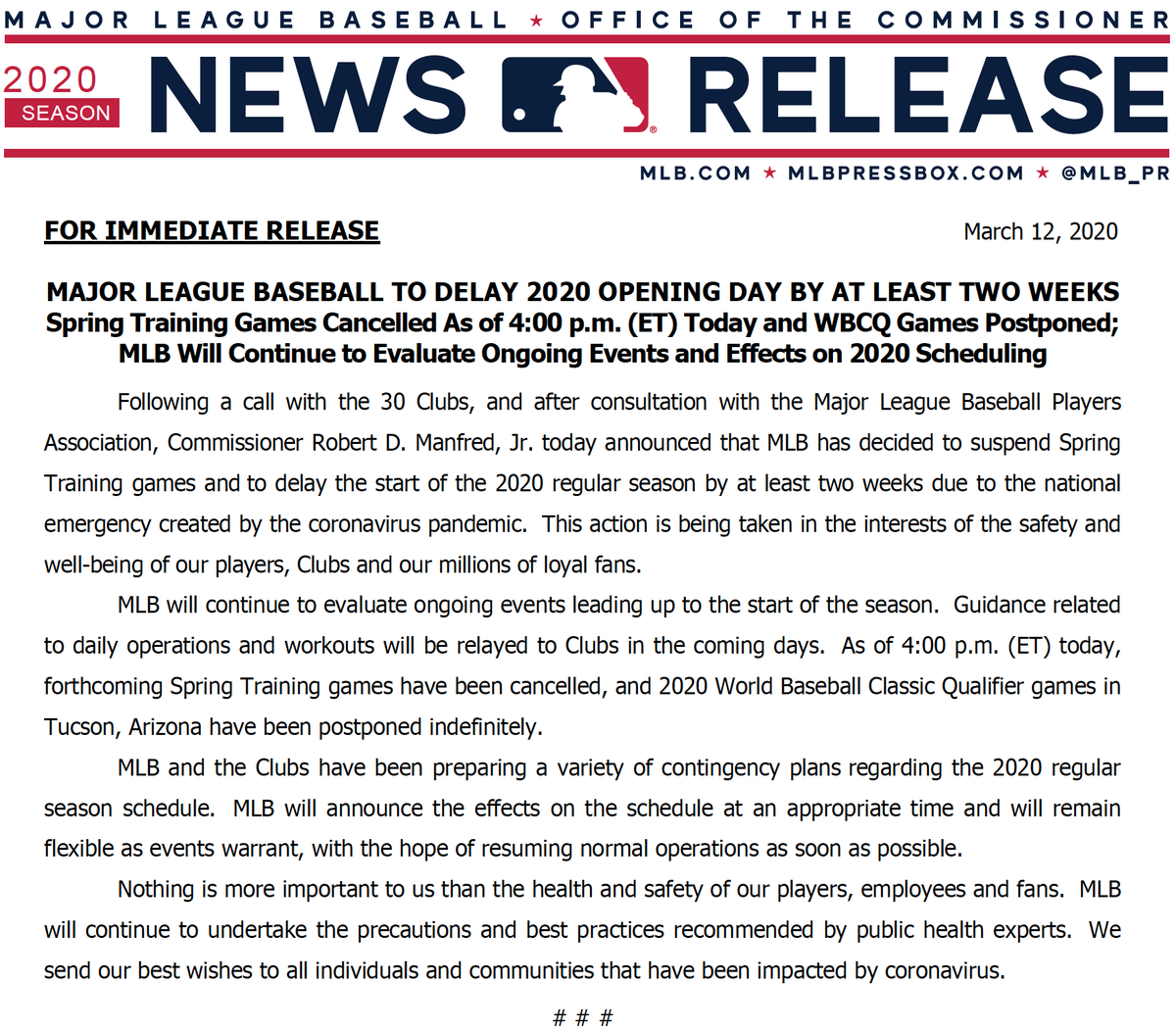 What does this mean?
They would plan to play all games, in front of no fans, in Arizona, including Diamondbacks' home field, Chase Field, 10 spring training facilities and other nearby fields. The CDC approved this practice, as long as players, members of the coaching staff and other team personnel remain in isolation at nearby hotel rooms. They would only be permitted to go to and from games. After about a three-week training camp, the regular season would begin.

Chase Field, Arizona
This proposed plans would also suggest that players agree to being away from their families for an unknown amount of time. This time could be in upwards of 4.5 months, while the outbreak of corona virus remains unexpected, we could see no home games across the country for the rest of 2020.
Others are saying maybe pushing back opening day to a date in June would make most sense. The thought of having fans at the games is contingent only on the accessibility of more corona virus testing. They would also need to determine who exactly is going to be allowed at the field in terms of support staff. On-field medical personnel, front office, scouts, video, media etc would have to be evaluated in levels of importance.
This is just the tip of the iceberg. Playing in front of no fans means that MLB would lose approximately $10 billion in revenue that they would normally be pulling in from ticket sales. They would try to make up some of this cash flow - by televising more games that would not normally be televised. Other sports being shut down, means more time slots have been opened up and more opportunities for these networks to show live programming.
The MLB participates in a revenue-sharing system. This helps the smaller market teams who don't bring in a bunch of money from local television contracts, make money by divvying up gate revenues among teams. In the event that ticket sales are completely eliminated, there may be a slight change to the Collective Bargaining Agreement (CBA) on that aspect.
The plan would also set forth the addition of several different proposed rule changes. One of which would be the possibility that teams would be allowed to expand their roster to account for the chance of having positive COVID-19 tests for players, despite the extensive measures to isolate. To go along with the CDC's recommendation of social distancing and keeping that space between individuals, an electronic strike zone could be used so that the plate umpire could keep their distance from the batter and catcher. Piggybacking off of that, MLB would prohibit the use of the dugout. Instead, players would sit in empty stands, 6 feet apart, which is the recommendation from the CDC.
Okay, so those make sense, but what kind of impact would it have on the game if they limited, or even eliminated mound visits for both pitching coaches and catchers? I would think they would then be forced to have a deeper pitching rotation because they won't have that cool down time with the catcher or coach. Baseball has 162 games. It's an incredibly long season. How would they fit all those games in with a condensed time frame? How about this - seven-inning double header games. Starting in May, or even June, this would give higher probability to getting all 162 games in before playoffs start.
Let's face it. Once you get to the ballpark and see a live game, watching it on TV pales in comparison. One way to make on-screen games more entertaining for at home viewers, would be to add regular use of on-field microphones by players. Every now and then a game will incorporate "mic'd up" when you can hear players and/or coaches during the games in various sports. I think this would be a really cool idea and a more hands on experience for people at home.
All of this sounds like a lot and could be tough to get used to, but it's far better than the alternative - no baseball =(
What are the other sports doing?
Adam Silver and the NBA plan to convene on May 1st at the absolute earliest to determine the next steps. If you recall, the 2011-2012 season was a shortened season due to lockout and actually was one of the best and most competitive seasons I've seen in a long time.
The 2020 NFL draft will be held in a fully virtual format at the end of April. Roger Gooddell informed that all 32 teams would proceed this way and depending on the route this corona virus goes, the NBA draft in June may follow suit.
When the 4 major sports decided to halt their 2019-2020 seasons, the NHL had 189 games remaining. The regular season was set to end on April 4th with playoffs beginning shortly after. No news has been shared about what type of impact this will have on the rest of their season, or what the plans are to continue, or start a new season.
Sources
https://www.espn.com/mlb/story/_/id/29004498/mlb-union-focused-plan-allow-season-start-early-arizona
https://www.espn.com/nba/story/_/id/29003667/commissioner-adam-silver-does-not-expect-make-decisions-nba-season-least-may
http://www.nfl.com/news/story/0ap3000001108454/article/2020-nfl-draft-will-proceed-in-fully-virtual-format
https://www.nhl.com/news/nhl-coronavirus-to-provide-update-on-concerns/c-316131734